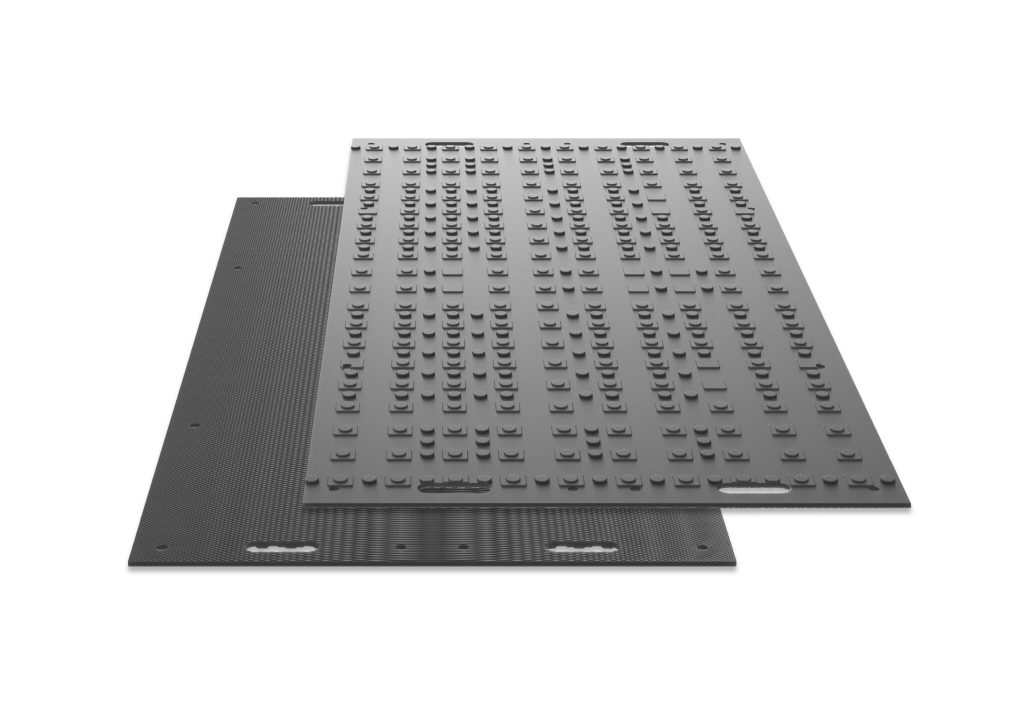 The varioMAT 1+ floor protection panels offer optimum protection as a transport route or as a base for stage assemblies, great events and sport events as lawn coverings.
Other possible uses include access roadways and pedestrian walkways, tent floors, exhibition space, supply roads or work platforms.
Depending on the texture of the floor, the panels can also be used as a temporary access road or parking lot for vehicles with up to two tons of wheel load.
Characteristics
The varioMAT 1+ floor protection panels are laid onto the ground and screwed. Due to their low weight and size, they can be laid and mounted by hand without any problems. The profiling provides a non-slip surface for pedestrians, wheelchair users, cyclists, cars and trucks. Depending on the condition of the floor, a PE foil, geotextile or rubber mat is also used as a base. For additional security during the night, signal markings and cat's eyes can be integrated into the panel elements on request.
The varioMAT 1+ panel is extremely flexible and elastic, adapts perfectly to the subsoil and protects sensitive surfaces.
TECHNICAL DATA
| | |
| --- | --- |
| Material: | Polyethylene, high molecular |
| Measurements: | 1200 mm x 2400 mm x 17 mm (incl. profile) |
| Usable area: | 2,88m² per panel |
| Weight: | approx. 36 kg |
| Surface: | 5 mm / bottom riffle (AS) |
| Color: | black |
| Load capacity: | approx. 80 to. (depending on substrate) |
| Transport: | 600 panels (1.728m²) |